all rights reserve exclusively for Association any copy should be authorized by us
این نشان به ثبت رسیده، هر گونه روبرداری، نمونه و ضبط با اجازه این جمعیت امکان پذیر میباشد.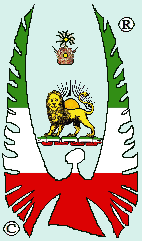 بتازگی برخی از مبارزین از ما خرده گرفته اند که چرا نشان ما در دست شیر شمشیر نیست.
بایسته دانستیم در این مورد آن گروه از مبارزین که چنین پرسشی میکنند را از نگرانی در آوريم. فراموش نکنیم نشان ما با پرچم شير و خورشید هیچ وابستگی ندارد و چون در نام گروه ما از واژه خرد بهره گرفته شده بنا براین یاد آور ميشويم شمشیر ما خرد ماست و نيازی به شمشیر یا هر گونه جنگ افزاری نیست. .
OUR BADGE
The Associations symbol, in short, symbolizes the clear vision of those who are at the peak of humankind, and their mission to bring civilization to the summit of humanity.
The Association of Wisdom and Tradition of Iran symbol.
The symbol is a modernistic version of the ancient Persian symbol "Farvahar" mixed with 15 feathers on each side as a symbol of "Simurgh". Farvahar can still be seen on many ancient - as well as modern - structures, mainly found in Persepolis.
In ancient Iranian philosophy, Farvahar is the essence and spirit of goodness, which is found in every person and thing.
Farvahar is also the name of the first month of the ancient (Farvahar) and present (Farvardin) Iranian year . It symbolizes the good, and is the custodian of goodness, and the guardian of "Iran Zamin": "Our Land".
The symbol of "Simurgh" (thirty birds), within the Farvahar, has 30 feathers to symbolize each one of the thirty imaginary ancient birds which at the time helped to free Iran from all evil ('Letter to the King', "Shahnameh", by Ferdosi).
The Lion and the sun are also symbols of the protection of Humanity.
We believe that the only way to protect "Iran Zamin" is by having a King to carry Iran through to tranquillity.
For further reading on Zoroastrian religious please visit www.zoroaster.net